SHIROFUKUROSYA Celebrates 10th Anniversary with Its First Solo Exhibition PRINCESS: A MIDSUMMER DAY'S DREAM
SHIROFUKUROSYA Celebrates 10th Anniversary with Its First Solo Exhibition PRINCESS: A MIDSUMMER DAY'S DREAM
This is the official website of SHIROFUKUROSYA's solo exhibition PRINCESS: A MIDSUMMER DAY'S DREAM. Welcome to the exhibition where you can enjoy the world of SHOUJO MANGA/ Japanese girls' comics and other art works just a 5 minute walk away from the Shibuya Station.
ABOUT THE EXHIBITION
The brilliantly scintillating world of PRINCESS - a blend of the new and the nostalgic - will appear soon in Shibuya.
SHIROFUKUROSYA, an illustrator who works in a variety of styles and media, including major women's magazines, celebrates 10th anniversary with her first solo exhibition. One of the most popular works of SHIROFUKUROSYA is illustrations of fantastic princesses which are reminiscent of the nostalgic world of SHOUJO MANGA/girls comics.
This special exhibition features further developments of SHIROFUKUROSYA's art of princesses, bringing together a variety of her works, such as hand-painted illustrations, art objects as well as projects in collaboration with popular bag designers and pastry chefs. Visitors to the event also can enjoy coloring, sales of original products, a coffee break at the Café PRINCESS and an overview of other kind of works by SHIROFUKUROSYA.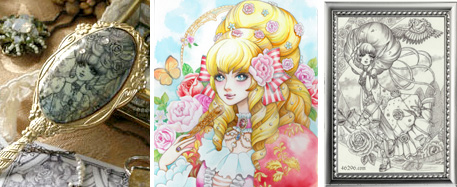 MESSAGE FROM THE ORGANIZER
Like any Japanese children since the mid-20th century, I enjoyed the world of MANGA as I grow up. Especially, the SHOUJO MANGA/Japanese girls' comics used to take me to an enchanting fantasy world where pretty girls with shining eyes in frilly dresses live in houses with fancy fireplaces. Looking back those beautiful images I was exposed to in my childhood, I came to think that they belonged to an ideal playground which the Japanese artists created to nurture dreams of future generations. I believe that those sweet images and dreams can have positive effect on our mental energy to face the reality of daily life  and I hope to pass this message to today's children and adults through SHIROFKUROSYA's work.
GENERAL INFORMATION
Date: August 17 – August 22, 2010
Hours: 11.00 am –19.00 pm (The exhibition closes at 17:00PM on August 22)
Venue: LE DECO, Shibiya3-16-3,Shibuya-ku,Tokyo, JAPAN
TEL:03‐5485‐5188  FAX:03‐5485‐5199
http://home.att.ne.jp/gamma/ledeco/english.html
Entrance Fee: Free (Admission to the Closing Party of August 22 costs JPY 1000. No reservation required)
CONTACT US
PRINCESS: THE MIDSUMMER DAY'S DREAM Public Relations Team
Email  mail@46296.com
BIOGRAPHY

The artist was born in 1970 and holds a B.A. in Liberal Arts by the International Christian University. After working as a manager of the planning department of a confectionery and then as a graphic designer of a game maker, she started to work as an independent illustrator in 2000. Her illustrations are often used in Japanese popular magazines and advertisement. For more details, please visit the official website of SHIROFUKUROSYA.